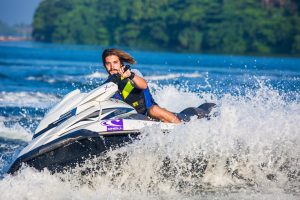 Summer is fast approaching here in Florida. The temperatures are skyrocketing and the humidity is steadily increasing. This means that the best place to be is in the water! Whether it be a pool, the Gulf of Mexico, or the Atlantic Ocean, swimming in the water is the best way to keep cool.
Now is the best time to sell your motorcycle in exchange for a PWC! A PWC, or personal watercraft, is a recreational watercraft that the rider sits or stands on, rather than inside of, such as a boat. You can cruise over the water in lakes or oceans. The small structure of the PWC allows the rider to have more control over the vehicle while also being able to feel the water.
Best Places To Use PWC In Florida
Here are just a few of the best places to take out your PWC this Summer.
Clearwater beach
If you are in or around Clearwater, Clearwater Beach is the place to go to use your PWC. The clear blue water and open space allow for some great riding.
St. Petersburg
The water off the coast of St. Petersburg is open and clear. While not as popular as some of the other large cities in Florida, St. Petersburg is just as beautiful. And, there are dolphins that swim along your wake!
Miami
Miami Beach is a popular spot to take out one's PWC because of the good weather, blue waters, and view of the gorgeous Miami city skyline.
Sell Your Bike For Cash!
Sell your motorcycle to us today so you can buy a PWC for the Summer! Have some more fun this year with your friends. Or, would you rather sell your PWC in exchange for a boat? A boat could give you more space to be with family on the water. Unlike a PWC, you can do more activities on a boat including; fishing, coasting, family games, diving from the stern.
If you want to sell your motorcycle, PWC, or other vehicles, get a free quote! For more information, contact us today or call us at 954-519-2460.