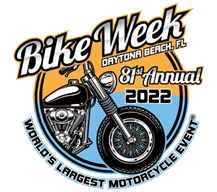 Daytona Bike Week 2022 is around the corner. This year marks the 81st Annual Daytona Bike Week, one of the largest motorcycle rallies in the world. For 10 days, motorcycle enthusiasts can enjoy a spring ride through Daytona Beach. This large event provides activities and stuff to do around the Daytona area, especially for motorcycle fans.
History of Daytona Bike Week
Originally, Bike Weeks was the Daytona 200. Starting in 1937, the Daytona 200 was held annually until World War II. Due to the war, the Daytona 200 race was put on hold. However, an unofficial event began to take place during this time known as Bike Week. Although the official race was reestablished in 1947, Bike Week became a part of the Daytona Beach tradition. Since then, this small event has turned into one of the largest motorcycle rallies in the world. Bike Week is known for its festivities that include motorcycle racing, parties, and street festivals.
Activities at Daytona Bike Week
This year, the Daytona Bike Week is going to be packed with amazing experiences. Like always, visiting Main Street is a must. The main street is full of motorcycles, street vendors, bands, and other unusual sites that you can only experience on Bike Week! One of the best parts of Main Street is to see all the different license plates on each motorcycle, showing just how renowned this event is.
However, there is more than the hustle and bustle of Main Street. Visitors can also take a spin on the Loop. The Loop is a motorcycle rider's dream. The entire trek has beautiful sites, ranging from lush vegetation and beachfront views. This 30-mile, double-loop also motorcyclists to pass by the amazing locations and parks that line State Road A1A. It is a leisure ride worth taking to see all of Florida's natural beauty.
Furthermore, the Daytona International Speedway has an array of racing events throughout Bike Week. There are more than just races at the International Speedway. Outside of the location, you can find Midway Marketplace and Harley-Davidson Thunder Alley. Both the Marketplace and Thunder Alley have vendors with magnificent equipment displays and entertainment for another one visiting the Speedway.
These are only a few of the many experiences that you can have at Daytona Bike Week.
Sell Your Motorcycle
If you are visiting Daytona Bike Week, you might find yourself buying one of the many bikes on sale. However, what do you do with your used bike? Sure, you can keep it. Yet, having cash on hand to buy additions for your new ride or other items is better. Fortunately for you, selling your bike is easy on Sell My Motorcycle Online. Sell My Motorcycle Online makes the selling process simple and easy. All you have to do is fill out a free online quote and we will give you the best price for your used motorcycle!