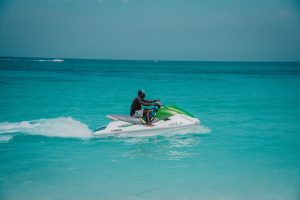 Having a PWC, or personal watercraft, during the summer is great. You can enjoy the warm weather from the seat of a jet ski and have fun cruising over the water. But how can you enjoy owning a PWC in the winter when the water is cold and storage fees are high? Sell your old PWC to Sell My Motorcycle Online this winter! 
Why Should You Sell Us Your PWC?
Winter is a great time to sell your PWC, or personal watercraft, in Florida for several reasons. Firstly, the winter cold makes it hard to enjoy a nice jet ski ride in the water. When a PWC isn't being used regularly, you have to winterize it or you could risk damage to the engine during long periods of disuse. Furthermore, storing a PWC during the cold season can get extremely expensive, especially if you have to store more than one. Perhaps you are looking to buy a new PWC but you aren't quite sure what to do with your old one. By selling in the winter, you can save money on storage and get some extra cash to put towards a new jet ski for the summer!
Selling a PWC can be difficult due to low demand during the cold weather. However, this winter 2021 we are interested in buying all of the major brands of jet skis including but not limited to, Seadoo, Yamaha, and Kawasaki. 
Here at Sell My Motorcycle, we make selling your personal watercraft as easy as possible. All you have to do is fill out our quote form or give us a call at 1-954-519-2460. We will get back to you as soon as possible and make arrangements to come to pick up your vehicle, regardless of where you live in Florida. Then, we will come to pick up the vehicle and give you a check! Contact us today to get the selling process started!