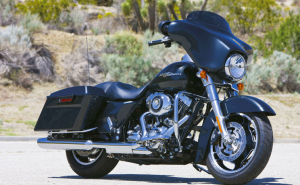 Harley-Davidson is arguably the most famous motorcycle brand in North America, for good reason. Since 1903, Harley-Davidson has been selling premium American-made motorcycles. With so much experience in building bikes, this iconic brand is one you can trust. Among their most well-made models is the FLHX Street Glide. The first Street Glide model was the 2006 model introduced in the summer of 2005. Each year since then has brought further improvement to both the models and designs.

The Harley-Davidson FLHX Street Glide
The Harley-Davidson FLHX Street Glide was the first model in the touring line. These bikes were made with a focus on comfortability during long-distance drives. The 2006 model has a four-stroke, 45 degrees V-Twin engine with a 1449 cc capacity and a max torque of 116.6 Nm. The strong V-Twin engine gives the Street Glide the iconic Harley-Davidson power and smooth ride. Furthermore, the 2006 model has a fuel capacity of 19 liters or 5 gallons. The FLHX Street Glide is easily started with an electric start and single-fire ignition. Furthermore, the slim build increases maneuverability and control over the steering of the motorcycle. 
Driving a motorcycle outside of summer isn't as fun or enjoyable. And storing a motorcycle over the cold season can be expensive. Instead of storing your motorcycle during the cold season, sell it to Sell My Motorcycle Online. Not only can you save money on the storage fees, but you can also get more cash for selling your Street Glide!
We are interested in buying these great bikes in all of the major cities in Florida. From Jacksonville to Miami, we will come to pick up your bike at your convenience! At Sell My Motorcycle Online, we make the selling process easy. Just fill out our free online form and we'll do the rest! For a simple and stress-free sale, contact us and sell your Harley-Davidson FLHX Street Glide today!