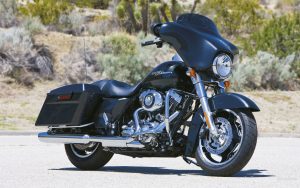 Harley-Davidson FLHX Street Glide became a part of the company touring motorcycle lineup in 2006. It was a spice of variety for the current collection of bikes. Although there were other Harley-Davidson touring bikes, the Street Glide was able to become a standout.
While the FLHX line was discontinued in 2016, the Street Glide is still a popular bike. So, what makes this early touring bike so unique and in high demand?
Origins of the FLHX Street Glide
During the summer of 2005, Harley-Davidson introduced this Street Glide as their newest 2006 motorcycle. This model was entering an era where Harley was making improvements on its touring family of baggers. As a result, the FLHX Street Glide received all the benefits of these improvements. In addition, this motorcycle model got new custom styling that set it apart from other Harley-Davidson models. For comparison, the FLHX Street Glide was a stripped-down version of another Harley Touring model, Electra Glide.
Although the mechanic of both bikes is similar, the Street Glide did not have a Tour Pack or front fender trim. In addition, they chopped down the windshield and a lower rear suspension. Despite these adjustments, this model had a lot of the comforts of the Electra. While the FLHX Street Glide is stripped-down when it comes to style, its performance is outstanding. This motorcycle can accelerate fast and shortstops, allowing for great control. These models have low-maintenance features, allowing them to be an easier bike to maintain. Furthermore, the handling is excellent. Riders are able to maintain stability while at higher speeds. Overall, it gave the FLHX the comfort and style people want with a street cruiser.
Sell Your Harley-Davidson Today
With all the amazing features that the Harley-Davidson FLHX Street Glide has, this bike is in high demand for first-time bike owners or collectors. Despite this demand, finding the right buyer can be difficult. Although you could be ready to sell, buyers can be fickle. If you try selling during the off-season, they will try to get a lower price than what your motorcycle is actually worth. In addition, people could only be looking for a specific model or brand of bike. Even if you find a potential buyer, they usually want you to bring the bike to them to see if they "really" want it. After all of that, you have wasted time and money.
At Sell My Motorcycle Online, the process of selling your used bike is easy and simple. Our company wants all brands and models of motorcycles! Do you have a used motorcycle? We want it. Furthermore, you don't have to spend hours searching for the right buyer. All clients have to do is fill out a form and get a quote that reflects what your bike is worth! No need to bring it to us. We will come to you to pick up your bike and give you your cash there!
So, don't waste your time with other online motorcycles buyers and sell your bikes to us!